October 28 & 29
Come hear Grace speak at the Mind Body Spirit Festival.
Grace will be presenting on Sunday 29 October at 11:45am her transformational relationship workshop on "Profound Intimacy is Available to You"; and also on Saturday 28 October and Sunday 29 October at 4:45pm she will be speaking at the Soul Kitchen on "Soul Food- what thoughts, behaviours and eating habits nourish your soul".
Entry to the Festival and Grace's events are FREE.
Download your tickets here http://www.mbsfestival.com.au/sydney/visitor-info/sydney-festival/
Sydney Olympic Park
1 Showground Road
Homebush, New South Wales, Australia, NSW 2127

---
Saturday 7 October 2017, noon AEST
Free Facebook Live Relationship Coaching session with Grace Gedeon. Bring all your questions to Grace.
---
March 8, 2016:
Keynote: National Women's Day, Sydney Gay and Lesbian Business Association.
Festival of Dreams
with Internationally-acclaimed, life-coach
Grace Gedeon
11th-13th September 2015
Hordern Pavilion
1 Driver Avenue, Moore Park, NSW 2021, Sydney Australia
Grace Gedeon is an International intuitive life coach. She has a unique capacity to intuitively and clinically diagnose the psychological factors that stand in the way of your success and fulfillment and teaches effective techniques to help you transform any area of your life – health, relationships, career and finances – in a deep and long lasting way.
Grace assists you to resolve current life issues through her ability to tune into the repressed psychological and emotional traumas from your past. Once identifying these issues she will then coach you on how to transform your current situation in order to attain healing and fulfilment.
If you can't understand WHY you are in a current crisis; WHY you can't break destructive  patterns; or WHY you repeatedly attract the wrong job, relationship, drama AND If you don't know HOW to change; come and talk to Grace AT STAND 52 or hear her present at the Festival in the Mother Earth Room Sat 1pm or in the Heart Chakra Room Sat 2pm.
Find out more about the Festival of Dreams here: http://www.festivalofdreams.com.au
---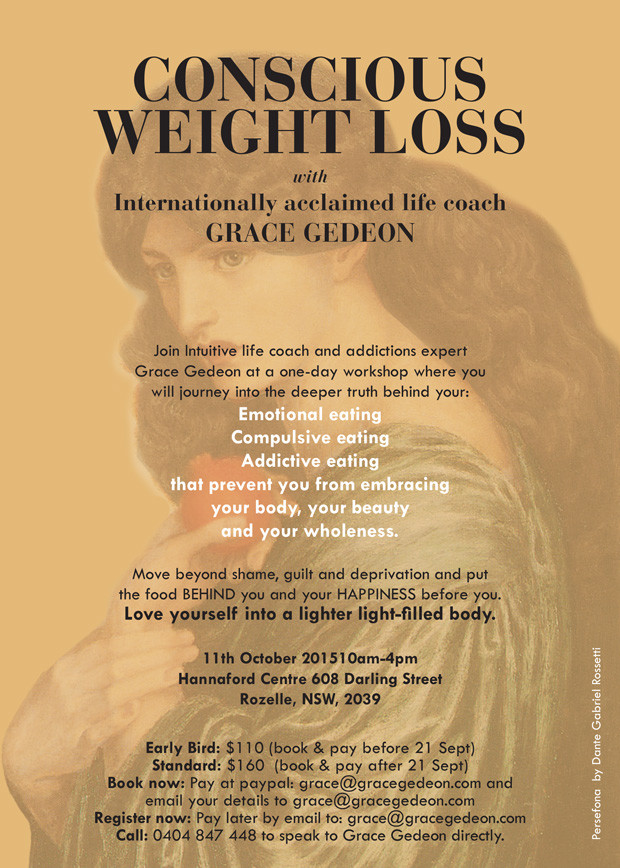 Have you ever wondered why you turn to food when you are experiencing difficult times, sadness, stress, anger or disappointment?
Would you like to understand the role food really plays in managing your emotions?
Ms Gedeon, a trainee of the Betty Ford Centre, Meadows, Arizona, as well as other prestigious clinics around the world, has also worked with author Marianne Williamson, whom she assisted with her New York Times #1 bestseller, A Course in Weight Loss, will take attendees on a deep and challenging journey that will address key issues including:
Eating your Feelings
The role of deprivation in binge eating
Understanding food addiction
Progress not Perfection
Embracing Beauty
Early Bird:    $110 (book and pay before 21 Sept)
Standard:    $160 (book and pay after 21 Sept)
Book now: Pay at paypal: grace@gracegedeon.com and email your details to grace@gracegedeon.com
To register email: grace@gracegedeon.com
For more information call: 0404 847 448 and speak directly to Grace Gedeon to find out more about the workshop or register directly with her.
---
The Aphrodite Training
Live Event in Los Angeles or via Livestream
23rd-25th October 2015
To find out more: http://marianne.com/theaphroditetraining/welcome.html
---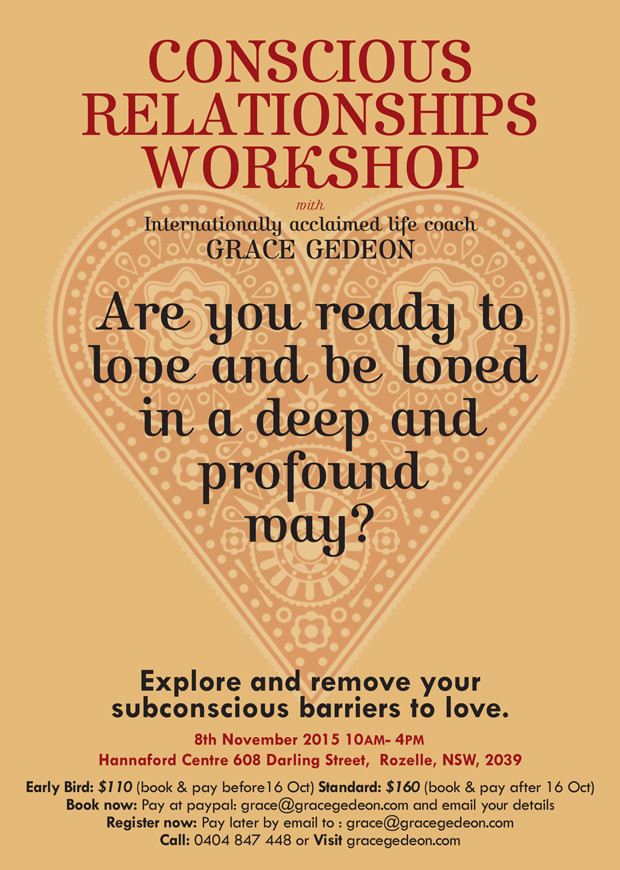 Join Grace in a one day workshop to explore:
How to remove the blocks to a loving relationship
The role of projection in relationships
How to be available for a loving relationship
How to transform your relationship into a fulfilling, fun, deep love
Early Bird:    $110 EXTENDED TO 30 OCTOBER (book & pay before 30 Oct)
Standard:    $160 (book & pay after 16 Oct)
Book now: Pay at paypal: grace@gracegedeon.com and email your details to grace@gracegedeon.com
To register email: grace@gracegedeon.com
For more information call: 0404 847 448 and speak directly to the relationships expert, Grace Gedeon, and discover why thousands around the world have turned to her to find trust, intimacy and connection in their relationships.
---
August 2016:
10 week Personal Development Group. For details email us.
---
September 24th, 2016:
Massive Impact ~ The Heart of Self Love
It's time for you to express yourself with fearless confidence, authenticity and impact: Love Yourself; Change the World!
Join 200 powerhouse women for a One Day Conference @ The Eternity Playhouse Theatre, Darlinghurst, Sydney.

Early bird prices end 30th August so grab your tickets now to secure your seat.
---
October 7 – 9, 2016:
Grace will be leading several workshops at the Festival of Dreams, Hordern Pavilion , Sydney.

---